welcome to made you look
bridal Hair, Makeup & spray tanning braintree ESSEX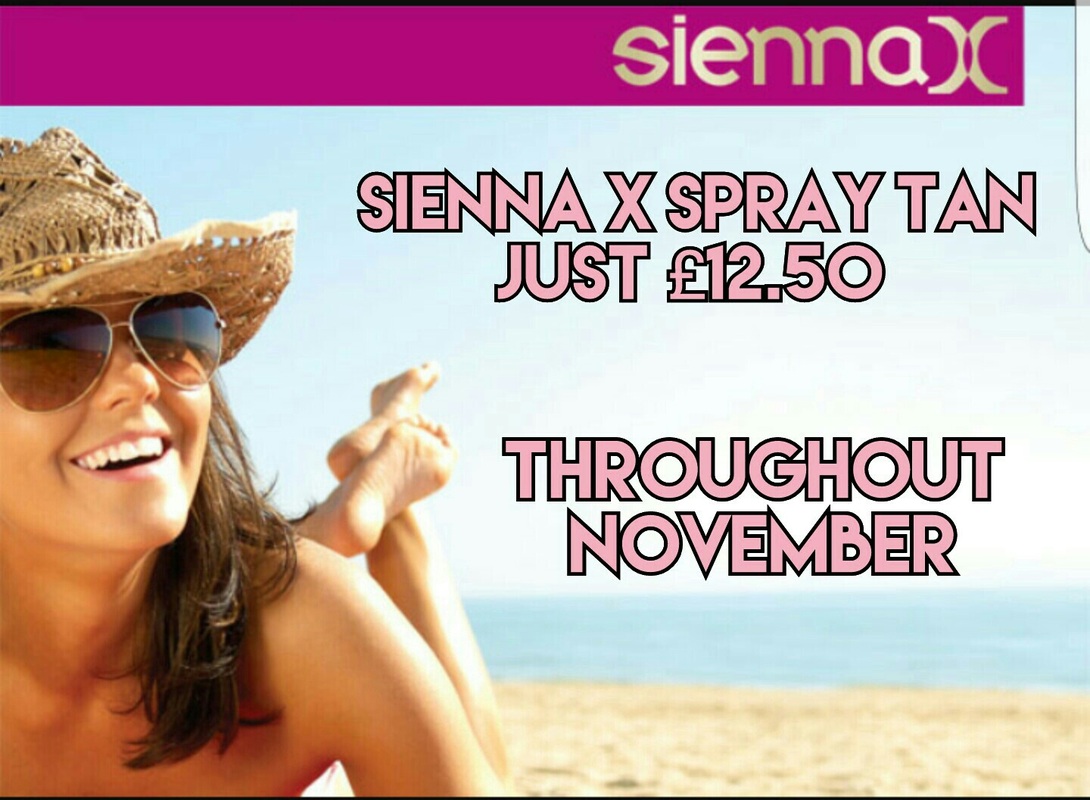 Prices

Full Body: £20
Half Body £15


Sienna X Spray Tanning
Spray tanning in your own home is the
easiest
,
quickest
and
safest
way to get a beautiful and natural looking tan, without the harmful process of sunbathing.
Glamorous, moisture-enriching and streak-free, modern day tanning treatments are better than they've ever been before.
With years of expertise under our belt, the Sienna X team has worked tirelessly to create a selection of key fake tan products that leave the skin feeling and looking smooth and replenished. Many of our tried and tested formulations contain natural ingredients that enrichen the dermis, such as aloe vera, shea butter and pomegranate – each one soothes, softens and promotes the healing of the skin in addition to lending a sweet smelling scent and perfume.
Other components of our award winning sprays and lotions include grapefruit oil, which works to drain excess fluid and reduce cellulite, and sweet almond oil that restores elasticity. Cocoa butter is added to improve the skin's radiance and the anti-oxidant properties of ginger extract protect the body from damage caused by free radicals.
DHA is a colourless sugar. It interacts with the proteins and amino acids in the outer layer of your skin to produce a golden brown colour (it's similar to sliced apples going brown when exposed to air). DHA has been approved by the
FDA
(Food and Drug Administration) for use in the personal care industry for over 30 years and is
much safer
than exposing your skin to the sun's rays.
Sienna X is multi-award winning and you can be confident you are using an excellent well known brand.
Why Sienna X

With a wide variety of colours thers a shade to suit every skin tone
High Intensity Tanning (natural look in 1 hour- develops in 1 to 4 hours)
Does not dry the skin, soloutions contain Q10 powerful anti ageing ingredient
Even, streak free natural looking tan in just 15 minutes

How Long will my tan last?

In general, your spray tan will last around 5 to 7 days.

However, there are a few things you can avoid which can help your tan to stay true for longer.

Avoid going swimming if you want to prolong your spray tan as chlorine can cause your tan to fade. Likewise with heavy exercise, sweating will cause your tan to fade quicker.

How long is development time?

Sienna X spray tans take between 8 and 10 hours to develop, unless you choose the HIT spray tan (High intensity Tanning), this developos in 1-2 hours.

Here are a few things a client will need to do to prepare for a streak free tan.

Preparation of the skin 24 hours before the tanning:

Exfoliate and moisturise the night before; pay particular attention to elbows, knees, ankles and dry areas.
Have any unwanted hair removed 24 hours prior to the treatment
Paint nails and toes (specially if they are artificial)



Preparation of the skin on the day of the tanning:

Please don't apply any moisturisers, oil, lotion or anything on the skin, not even deodorant or aftershave.

After the spray tan

Wear dark loose clothing straight after the treatment
Wear flip flops or loose fitting shoes
Do not shower or bath for the development period (at least 8 hours after the tan)
Do not exercise or swim during development period
Pat dry after showering and use Sienna X products to prolong the life of your tan and to stay looking gorgeous

Note: At the end of every treatment the therapist will explain the after care and products to be using at home for longer lasting results. It is very important to follow the therapist advice.